High pressure continued to be in charge over the past week which gave us light winds making approaching pools without spooking fish very difficult, thankfully the sun was not ever present with Thursday the only real bright hot day.
Monday was our best day of the week with 8 fish in the book including four for Graeme Crombie from beat 2, not bad going for his first ever outing on the Thurso, Graeme would add another to his tally on Tuesday from beat 10, his fishing companion Guy Mailing would also take his first Thurso salmon from beat 2, husband and wife team Laura & Johnny Harcourt had a grilse each from beat 3, Joe Harrisson had two grilse for his week, Callum Cheape, Ken Debney, Ian Baird, Andy Blundell and Julie lister all catching a fish each.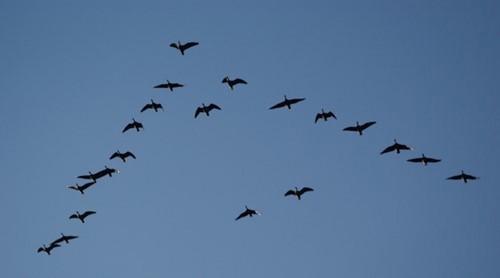 Throughout the week the farmers have been making good use of the fine weather for harvesting their crops and this has coincided with large groups of geese arriving which is a sure sign that Autumn is here with our summer visitors such as the osprey, sand martins and swifts in the process of leaving for warmer shores.
With four and a half weeks remaining of the season only time will tell if we get significant rainfall to lift the river levels, but if the last few seasons are any indication it will hopefully not be too far away.
Tight lines next week.